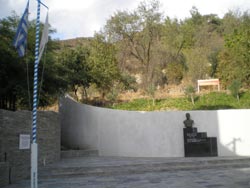 The village honors the memory of the hero Georgalla Michael by constructing a museum and raising statues. Hero Georgallas Michael died while fighting in Zoopigi, during the 1955-1959 liberation fight.
Michel Georgallas was born in the village of Marathovounos, in Famagusta district, on the 6th of November 1936. He had been serving Greek and Christian ideals since he was a student. He took an active part in all demonstrations organized by the students of Pancyprian Gymnasium.
During the years that followed, his fighting spirit was shown through his participation in the Nicosia executive groups. His actions led to his arrest and to eight months of imprisonment. Michalis was incarcerated in the detention rooms of Kokkinotrimithia, from where he escaped in the 12th of September 1965 with six of his fellow-detainees. They found shelter in the Pitsilia area. Michalis ended up in Palaichori. To be more specific, in the fighting team of Gregoris Afxentiou. From this moment on, Georgalllas acted with the pseudonym "Liakos".
On the night of 1957 new years eve, Michalis Georgallas was shot by "traitors, men that worked for the English and helpers of the Turks". His last words were to Gregoris Afxentiou: "Boss, boss I am dying. Long live Greec…".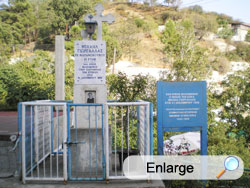 Michail Giorgallas was killed
here fighting for his country
A year after his death, the inhabitants built a monument in his memory. The monument consists of a marmoreal column decorated with the picture of the hero, a cross and his candle, form which they light the holy flame. There is an inscription on the monument that writes: "born in Marathovounos, died in the battle of Zoopigi". Each 1st of April, after his memorial service, the Fighters Association (1955-1959) and the primary school place wreaths on his monument.
Another monument dedicated to Michalis Georgallas was recently raised near the battlefield. This monument consists of two collateral walls. A bust of the hero lays between them and so does a plate with the inscription: "he died fighting for Greece".
To sum up, the Historic Memory board, the community council and the inhabitants of the village contributed to the construction of a museum at the location of the hero's hiding place. Gerogallas's hideaway was the kitchen of Minas Mina family. The family offered its house to the hero and has agreed to convert its kitchen into a museum. There is already abundance of photographic material and the president of the community council mentions that the museum will be enhanced with some of his personal items.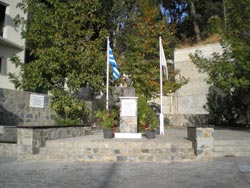 Antonis Antoniou
Sources:
The EOKA Heroes, Nicosia 1996, p.19
President of Zoopigi Community Council, Mr. Kallis Nicos